Rob Blackwood performs Drums and Vocally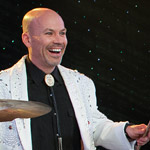 Rob is the grandson of the late R.W. Blackwood, of the legendary Blackwood Brothers Quartet. Robbie began playing drums at 9 months, first appearing on stage with the Roy Rogers and Dale Evans Show. By the time Rob was 5 he had appeared with Johnny Cash, Faron Young, Tammy Wynette, The Oak Ridge Boys, and many other country greats. Rob, a child prodigy, recorded his first single at 4 and continues to do session work today. At the age of 5, Rob semi-retired, so he could go to school. At 13 he toured with his dad and the Blackwood Brothers Quartet. At 17 Rob moved to Branson and in the summer of 1993 joined Buck Trent Country Music Show.
While he keeps the beat going, he's also known as a fun-lovin' guy who always has a great smile!